TPEI Takes on Larger Parts, Increases Efficiency with Romi Lathes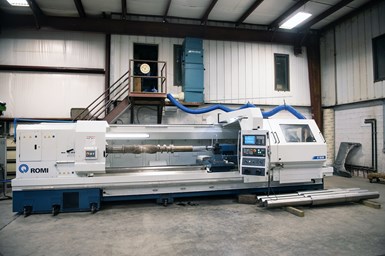 "What sets us apart from our competitors is our ability to manufacture everything internally," says Jim Hower, engineer at Technical Processing and Engineering Inc. (TPEI). The Lehighton, Pennsylvania, manufacturer provides spare parts for continuous mixers and extruders, designs and manufactures compounding equipment, and repairs and rebuilds equipment for the plastics and rubber industries. For years, TPEI serviced its customers' smaller mixers, but it did not have the equipment necessary to rebuild their larger equipment.
"The investment in the machine tools required to be able to repair or rebuild those larger units was pretty significant," Hower says. "But we got to the point where we felt there was enough of a market to justify that investment."
TPEI determined it needed to upgrade its manual lathe from a 160-inch bed with a 32-inch swing to a lathe with a bed length of approximately 200 inches in order to machine some of the components for those larger mixers and extruders. The company ultimately decided the Romi C 830 CNC lathe was the best solution for its needs.
Source: Modern Machine Shop